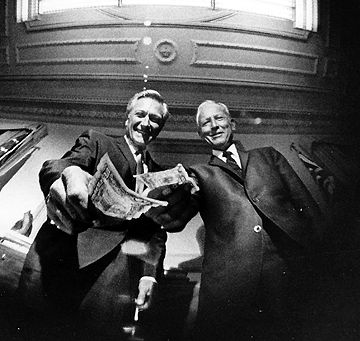 The "Five-0" gov, Richard Denning,left, was photographed?
with Hawaii's then-governor, John A. Burns, at a 1968 fund-raiser.?
Star-Bulletin file photo
?
---
The longest ride
TV governor Denning enjoyed?
a 12-year term
Stories by Tim Ryan
Star-Bulletin

?
---

He counted on Steve McGarrett to right the wrongs, keep Hawaii safe, even on a few occasions for saving his job as Hawaii's longest serving governor.

"Steve McGarrett was always there when the going got tough," laughed veteran actor Richard Denning who portrayed Hawaii's governor for 12 years - 1968-80 - on "Hawaii Five-0."

Denning, who lives on Maui but also has a home in California, may be best known for his "Five-0" role, but the show business veteran of 60 years has made more than 100 feature films, including "An Affair to Remember" with Cary Grant and Deborah Kerr, and 500 television episodes, including the popular 1950s series "Mr. and Mrs. North."

Denning, now 82, had retired from acting back in 1968 and was living in Kihei when "Five-0" producers approached him for the role.

"I said I would consider it if I didn't have to go back to the mainland or sign a contract in case I didn't want to do a show," Denning said from his Rancho Bernardo, Calif., home. "I wasn't interested in working anymore, but they agreed to everything."

He worked on "Hawaii Five-0" 12 years without a contract.

"If I wasn't available they'd just change the script and film Jack (Lord) making a phone call to me," Denning said.

Interest in "Hawaii Five-0" has never waned since the show stopped filming in 1980. It is still broadcast worldwide, including 16 stations in the United States. There's a "Hawaii Five-0" fan club, a trivia book about to be published, a newsletter, and in October the first "Hawaii Five-0" convention ever in Los Angeles and Hawaii.

"Hawaii is still a dream for most people and that show was all Hawaii," Denning said, "And it was good, always entertaining."

Filming the show in Hawaii was a blessing in many ways for Denning since his only child and her husband lived on Oahu. Denning and his wife of 43 years Evelyn Ankers, who died in 1985, could come to Honolulu to work, shop and visit with daughter, Dee, and her family.

(Ankers, born in Chile to British parents, was the B-movie queen of horror and action films in the 1940s and '50s appearing with Boris Karloff, Lon Chaney, and Bela Lugosi. Daughter Dee, who lives on the Big Island with her carpenter husband, is writing a book about her father called "Til Death Do Us Part.")

"I thought the business was through with me until "Five-0" came along," Denning said. "It was great fun and it lasted a long, long time."

Denning won't attend either "Hawaii Five-0" convention because for the last two years he's been so ill with a lung ailment that he requires fresh oxygen from a container 24 hours a day. Traveling is logistically arduous because of the oxygen tanks he requires. He also suffers from arthritis and spinal problems which hinder his walking.

?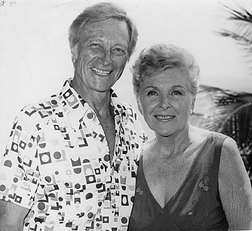 Richard Denning and his late wife Evelyn Ankers were?
photographed on the "Hawaii Five-0" set near the end?
of the series' 12-year run.?
File photo
?
---

"Nothing can be done," Denning said, sounding a bit depressed. "I can't swim anymore so Hawaii has lost its glamour too."

Denning's health declined following his wife's death when he broke his hip riding a bicycle on Maui. The surgery, which required five pins, sharply curtailed his vigorous exercise regiment - walking, swimming, and biking daily.

Despite the ailments Denning said "I'm perfectly happy because I'm still alive."

"Almost everyone I've worked with is gone. I don't even have a working phone number for Jack (Lord) anymore, but I've heard he also is quite ill."

Trained as a CPA, Denning credits much of his acting success to treating the craft as a business.

"I went into it with a business attitude and my education helped me through the quiet times when I wasn't working so much."

The oldest of two brothers, Denning - his original name is Denninger - was being groomed by his father to take over the family garment manufacturing business when he discovered acting.

"I really liked it and realized you could make money and have fun to. I hated the idea of being a CPA."

But in the 1960s after some 30 years as an actor, Denning was being offered feature films he couldn't understand, figure out the motivation, plot, or message.

"The last script I read had me plastering a wall where all you can see is a woman's breast being covered. So I thought I was the murderer. Then in the next scene I'm making love to some chick on the beach. It turns out I was a senator running for office. I just didn't get it."

Toward the end of "Five-0" Denning, despite enormous success as an actor and real estate investor, became almost chronically depressed.

"I was disgusted with everything. I had been mainly concerned with making money, furthering my career, getting ahead. I had everything worldly, a yacht, three Cadillacs, a beautiful home and pool, a good marriage and a daughter. But something was missing. So I asked God for help and I got it."

In 1986 Denning married a family friend, the widow of his accountant. The couple just celebrated their 10th anniversary.

Denning doesn't watch "Five-0" reruns anymore but he remembers his relationship with Lord.

"We got along fine in part because he knew I wasn't after his job; that I had done several series so I understood what he was going through.

"Jack took personal responsibility for the show. Every morning when he left for work Marie would tell him 'Jack, you're a star and I want you to act like a star.'"

There's nothing Denning would change in his career.

"It was fun, sometimes difficult, often rewarding. I never wanted to be a Clark Gable or anything like that. What was important was having privacy and enjoying life."<