By George F. Lee, Star-Bulletin
Left to right, Elsie Sniffen, Zoulou, Russell Wong and Kam Fong
attend a blessing for the new series yesterday morning at Magic Island.
---
Old pals, new show
'Hawaii Five-O' begins anew
with support from the old gang
By Tim Ryan
Star-Bulletin
There was the old "Hawaii Five-0" gang -- Kam Fong, Zulu and Moe Keale -- discussing the resurrection of the show with the new breed of the make-believe, elite police force -- Gary Busey, Russell Wong and Elsie Sniffen and producer-writer Steven Cannell and director Bradford May.
Just behind them at Magic Island on this first day of filming, the sun was peeking over the Ilikai penthouse apartment where Jack Lord who portrayed Steve McGarrett stood in the memorable opening credits of the show which ran from 1968-1980.
And while Lord was unable to attend yesterday morning's blessing by the Rev. William Kaina, his wife Marie made a rare appearance, bedecked in red leather pants, white blouse and red felt hat. She leaned on either Keale or Cannell during the blessing.
"I only hope we can be half as good as Jack's show was," Cannell said to Marie.
"Don't be silly," she answered graciously. "You're going to be twice as good and you'll be back here for a whole series."
After the blessing, the tough, take-no-prisoner director May, wearing a maile lei, barks "OK, people, let's get to work."
And so 17 years after Hawaii's most famous television program shut down, it became deja vu all over again as CBS Television in association with Cannell Productions began filming the hour-long pilot that could return as a 23 episode series in the fall or as a mid-season replacement next January.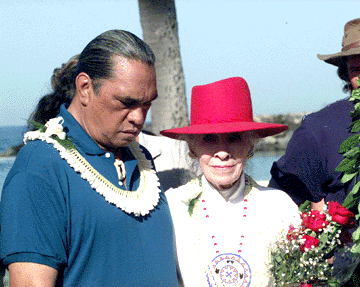 By George F. Lee, Star-Bulletin
Moe Keale is with Marie Lord.
---
Many of the crew working the pilot are old friends from working on the original "Five-0." John Nordlum, Busey's stand-in on this show, was Jack Lord's stand-in, and later Tom Selleck's on "Magnum P.I."
"I guess it's going to happen after all," said Fong who portrays detective Chinn Ho Kelly. "We're doing a television show."
"Wow, look at us," quipped Zulu who plays Kono. "We're back, guys."
The first scene being shot has Busey, whose character is named Jimmy X. Berk, sitting atop a picnic table where he's sketching. He's dressed in tan slacks, an enormous lavender aloha shirt and dark shoes.
Between takes Busey rehearses the next scene with Fong, Zulu and Keale, reciting lines, making suggestions, listening to the local actors' natural dialect.
In an earlier script, this scene takes place in Busey's cluttered office with the three retired detectives entering and Fong saying, "Bad day, Bruddah." But after some complaints from the local actors, the pidgin mostly has been eliminated so in the shooting script Fong says, "Bad day, Jimmy."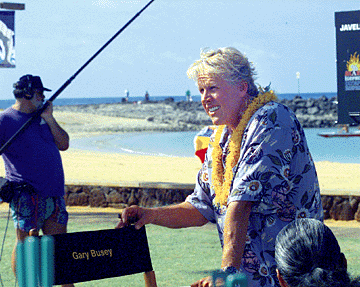 By George F. Lee, Star-Bulletin
Star Gary Busey waits for his first shot in the new series.
---
The scene under a blazing sun is done in three takes and director May is elated.
"Excellent, very good!" says May. "OK, guys don't go anywhere, keep your focus. Let's set up the next shot right here."
Cannell, who also created "Rockford Files," "Renegade," "The A-Team," "Wise Guy" and "21 Jump Street," said he was especially excited doing a show with so much history. But he was surprised at how fast CBS organized the production.
"I wrote the first script about two months ago then went to the Caribbean for a vacation with my family. I never thought I'd hear back from CBS this soon. And here we are."
Between takes Busey is given sunscreen. He jokes with the camera and sound crew, takes some fake karate kicks at the overhead microphone, and jokingly pushes Fong.
"OK," May yells, "Let's have the 50-millimeter lens, the 'Five-0' lens, I guess I should say the Jack Lord lens."